How's it going 12th man? First off, I'd like to thank all of you who checked out my first articles I posted on here last weekend! Your thoughts & feedback were much appreciated & if you're reading my latest article this week, I thank you for staying tuned! Now, I covered Free Agency for the Hawks pretty well for the most part in my last piece. The NFL Scouting Combine gave us fans who actually pay attention to it, a brief sample of what players we may want/or not want the Seahawks to draft in the upcoming 2013 NFL Draft

this April.

Some players rose to the challenge & impressed me, others... Ehh not so much, if I must be honest. That being said, let's preview the upcoming Draft from a Seahawk Fan's point of view.
First off, the Seahawks needs coming into this 2013-14 season.
Defensive Tackle: We all know our defense is at the TOP of the charts. But other than the Green Bay game (Clemons!) did our defense really get to the Quarterback that often? We need a solid interior pass rusher that can get to the Quarterback more effectively & often this season. Adding that caliber of a player would make our defense even more fearsome to others in the league & should be our #1 priority come April in the Draft.
Wide Receiver: Our WR core is good (Rice, Tate, Baldwin) but could be better. In my opinion, Butler, Martin, & probably Obomanu are likely out of Seattle come Training Camp. But will the Hawks keep Kearse as the #4 WR on the Depth Chart & move Phil Bates (Future Contract WR) up to the Active Roster at #5? I think a bigger WR is needed come Draft time for the Seahawks, primarily because I don't trust the WRs that come after our Top 3. Kearse has potential to do well in the league @ 6-2 (208), but the guy isn't good enough to be a starter for us quite yet. The Seahawks need a solid WR to compliment Sidney Rice as our #2 WR or possibly take over as our #1. Is that guy in this draft? I think it's quite possible.
Right Tackle: Giacomini is a really aggressive RT, but he's almost too aggressive. He took over as our usual flagged player in games throughout the season, and in all honesty, I don't believe the guy is that great of a RT in this league (See him getting absolutely in the Week 17 game vs. St. Louis by DE Chris Long). This is a position we could easily upgrade in the first few rounds of this Draft.
Defensive End: This one could be pretty important, seeing how

Chris Clemons

is coming off a Torn ACL in the Playoff win over Washington, we aren't all too sure how this guy is going to be when he does return this fall. Will Clemons even be ready for Training Camp? Possibly even the start of the regular season? Bruce Irvin still appears to not be ready to be a full time starter yet (See Atlanta Playoff Game) due to his lack of skill against the run. I like Irvin, I really do, but think he still has work to do before taking over Clemons job. As for now, unless Seattle drafts a DE, it's between Irvin & Scruggs if Clemons isn't ready come Week 1 this fall.
Guard: Seattle could upgrade at this position as well, due to James Carpenter not being able to stay healthy & McQuistan being decent at best. It appears John Moffitt is capable of keeping at least one of the starting Guard positions (LG or RG). The Hawks will definitely take in Carpenter's injury history into thought come Draft time in April.
Linebacker: We all saw the success of Bobby Wagner at MLB, & KJ Wright @ SLB this season. But now it appears LeRoy Hill will most likely no longer be a Seahawks come Training Camp, that leaves an open Starting spot at WLB. Is Malcolm Smith ready to take over as a starter on this team, or is there another highly talented LB ready to fill Hill's shoes available to the Hawks in this Draft.
Tight End: Zach Miller is a stud, and we all hope Russell Wilson fires the ball his way alot more often next season, seeing how he did in that Atlanta game! But Miller's contract is going to get pretty fat these next couple of seasons, Anthony McCoy is signed on for a few more years, but another young cheap TE wouldn't hurt the Hawks later in this Draft either.
Kicker: Hauschka is a Free Agent. Unless we reach a new deal with him, can we please find a kicker like the Rams did (Greg Zurlein) in the later rounds of this Draft??
Seattle Seahawks 2013 Mock Draft Preview
(If Seattle were to not trade any picks, but there's no way we sign 10 Rookies)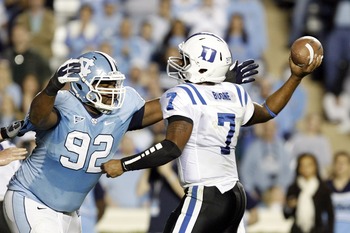 Round 1 -25th Pick: Sylvester Williams DT - North Carolina: 6-3 (320) A solid interior pass rusher, and a big team need for the Seahawks, Williams could become a solid threat at DT for the Hawks & provide the pressure we need on an every down basis.
Round 2 -56th Pick: Markus Wheaton WR- Oregon State: 5-11 (183) Wheaton had an excellent career in his time with the Oregon State Beavers. A WR with big play capability written all over him, he could compliment Sidney Rice well as our #2 WR, moving Tate to #3 & Baldwin to #4. My alternate pick would be Justin Hunter WR- Tennessee 6-4 (205) right here if Seattle doesn't take Wheaton or if Hunter is still available (HOPEFULLY). I just don't see Hunter being available right here unless the Hawks trade up.
Round 3 -87th Pick: Zaviar Gooden OLB- Missouri: 6-1 (233) impressed at the combine with a 4.47 40 yard dash, 27 bench press reps, & greatly improved his stock. This is a guy who could fill the shoes left available by LeRoy Hill's soon to be departure as a starter on this strong Defense.
Round 4 -120th Pick: Chris Faulk OT-LSU: 6-6 (325) OT Faulk could be a learner under Giacomini or a
competitor for the Starting RT position come Training Camp time if the Hawks decide to draft him in the 4th Round. Faulk is coming off of 2 knee surgeries which could be a issue when draft time comes around, but the whole key to drafting a new Right Tackle is finding a talented starter, especially one who won't commit so many penalties.
Round
5: Bennie Logan DE-LSU: 6-3 (295) Seattle rolls with another LSU guy with their first 5th Round Pick. Logan is compared to Jason Jones DE of the Seahawks who got hurt this season, but could be the solution to the starting spot void cast by Chris Clemons come the start of the regular season. Look for him to compete with Bruce Irvin if Clemons is ruled out to start the season for the DE spot.
Round 5: Brian Winters OG-Kent State: 6-3 (310) A LG to step into Carpenter's spot, since James Carpenter struggles to stay healthy, Winters could help the line out significantly with his size & strength. If he is available with the Hawks 2nd pick in the 5th Round, I definitely see Seattle snatching him off the board.
Round 6: Joseph Fauria TE-UCLA: 6-7 (257) Fauria could be a steal if available in the 6th Round to the Hawks. Zach Miller has a huge contract that'll take up some serious cash in the next couple of seasons, Fauria might be a guy you draft now & build him up the next few seasons to potentially become the Starting TE if Miller's contract gets too expensive (Trade).
Round 7: Brandon Williams DT-Missouri Southern: 6-1 (341) Could make an impact & increase the skill on the D-Line. A steal if still available.
Round 7: Marquess Wilson WR-WSU: 6-4 (183) Explosive WR minus the odd circumstances for leaving WSU his Senior Year.
Round 7: Dustin Hopkins K-Florida State: 6-1 (186) One of the best Kickers in the nation & an easy pick with the last pick in the Draft for Seattle.
Overall, that's how I see the Seahawks draft going if they don't end up trading any of their picks, which I'm sure they will no doubt! I hope you all enjoyed my Seattle Seahawks 2013 NFL Draft Preview.
Feel free to leave me some feedback & comments. You can Follow me on Twitter @TylerSniffin or my blog on here
www.theseattlesportshub.com
Stay tuned for more on your Seattle Seahawks & thanks for reading